Tracy was one of the founding fathers of modern hot-air-ballooning. He is best known for his creative design and safety innovations which made balloons beautiful, more functional, and safer to fly.
He set eleven world altitude records and was the first balloonist to fly across the nation. His interest also extended into designing and manufacturing gas balloons and airships. Tracy will be long remembered for his 58 years of contributions as a lighter-than-air pioneer.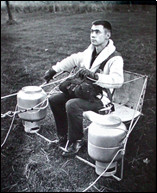 After leaving the Army as a paratrooper, Tracy made his first balloon out of three cargo parachutes and named it Old Lumpy. The balloon was an AX-5 (N8654E). The carriage was simply a lawn chair with two propane tanks attached on each side. Tracy first flew Old Lumpy on October 13, 1961 in Wayzata, MN.
In January 1962, Tracy entered and won the first St. Paul Carnival Balloon Race. He also won the race the next two years.
Tracy built his second balloon, N8654E, which he used for commercial work.
In January 1963 Tracy built his third and fourth balloons. N1072Z was used for training and was sold to Aerostat Club Society (Karl Stefan, president). N1073Z was used for commercial work. Tracy's fifth balloon, N4633T, was a special super pressure balloon used for commercial tethering work.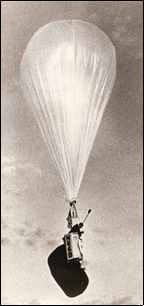 Tracy built a special helium gas balloon, Charlie Brown, N66B. On May 11, 1964 he flew it to an altitude of 37,800 feet (over seven miles) and set 11 world records; some still stands today. The photo to the right was taken just after take-off.
Tracy met Brenda Bogan while doing a promotion in Austin, TX. She moved to Minnesota and became Tracy's secretary. Tracy trained her as a balloon pilot, and built a balloon, N7526U, in which she set a world hot-air-balloon AX-3 altitude record of 9,770' on Sept 3, 1965.
On Dec 21, 1965, Tracy and Brenda were married in Austin.
In January Tracy, Brenda, and Terry Wright moved to Chester, SC where he built N4723S, an 90,000 cu. ft. AX-8. With Lennox Corporation as his sponsor, Tracy became the first balloonist to fly across the United States. On April 9, 1966, he took off from the famed Hotel de Coronado near San Diego, CA. After five months of equipment malfunctions, balloon failures and injuries, he landed at Cape May, NJ on September 11, 1966.
In June 1967, Tracy moved to a warehouse at 426 Foster Avenue in Charlotte, NC where he lived and worked for the next few years. He built three balloons, N2818, N3139 and N2164. He downsized the large balloon he flew cross country to make a training balloon.
In 1968 he decided he wanted to start manufacturing FAA certified balloons, which later he named the FireFly balloon.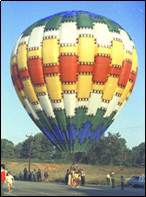 Bill Meadows heard about Tracy from a friend. After several visits, Bill decided he wanted to become involved in the sport. Tracy agreed to train Bill but only after he finished building a balloon for the Beach Mountain Corp. that was opening a new theme park named The Land of OZ in Banner Elk, NC.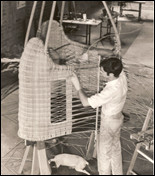 Tracy completed the Land of Oz balloon the first couple days of October. This balloon was very special because the carriage was the first triangle wicker carriage Tracy had designed and built. The photo shows Tracy weaving that carriage in the Foster Avenue warehouse.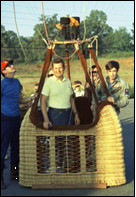 Tracy called Bill and said he had just completed the Land of Oz balloon but had not had time to make a test fligh. Tracy asked if he could stop by Statesville on the way to Banner Elk and combine the test flight with Bill's first training flight. They agreed on Saturday October 4th.
From the Newtown Plaza at 5:00 pm Bill and Tracy made the first balloon flight in Statesville and Iredell County. The 75 minute flight over downtown Statesville ended on Buffalo Shoals Road just east of the Statesville Airport.
In the image, Bill is in the carriage and Tracy is in the jump suit.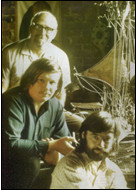 Tracy founded The Balloon Works (TBW) and moved to an abandoned women's prison in north Charlotte. Balloonist Dodds Meddock, Karl Stefan, and Terry Wright made up the design team. For over two years they designed and tested the balloon which would later become known as the FireFly Balloon.
Tracy designed a revolutionary venting and deflation system the "Parachute Valve" which was test flown to over 11,000 feet by Don Cline in April 1973.
TBW designed and built eight balloons; four flew in the 1974 First World Hot Air Balloon Championships in Albuquerque, NM.
In the image from left to right: Karl, Dodds, Tracy
Tracy decided to move to a smaller town outside Charlotte so he would have room to manufacture and fly balloons. Bill Meadows' company, Balloon Ascensions, had been been flying balloons north of Statesville for 5 years, so he knew the area would be perfect for Tracy.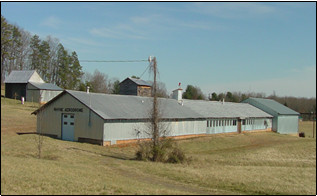 He introduced Tracy to Raeford Rhyne who had a grass airstrip (NC15) and two closed chicken houses that he offered Tracy for $50 rent per month. In late 1973 and early 1974 Tracy moved TBW (along with Dodds, Karl, and Terry) to Rhyne Aerodrome, ten miles north of Statesville near Love Valley, NC. After the move, Tracy asked Bill Meadows to become TBW's national sales director. Anna Rhyne became the receptionist. Over the next couple of years, the chicken houses were upgraded as a viable manufacturing facility. In 1974 TBW received the long-awaited FAA production certificate.
Sales and production took off big time! TBW had found a home in the foothills of the Brushy Mountains. The main building remains as it was in 1974. A historical must see, especially for visiting balloonists.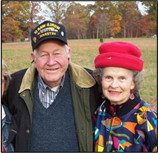 Raeford and Anna Rhyne made everyone working at TBW feel right at home. They were a gracious couple who did everything they could to help make Rhyne Aerodrome a wonderful place to build balloons.
TBW would employee over 60 locals to build FireFly balloons. Craftsmen sewed balloons, wove wicker carriages, built burners and hand crafted the many parts that made up a hot-air-balloon.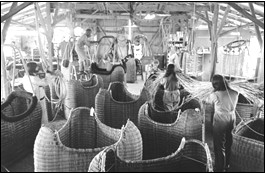 As production increased the second chicken house was used to cut and sew balloon envelopes. An abandoned grocery store on the corner was used to produce all the artwork panels. The photo shows 15 carriages under construction in the original chicken house.
In 1982 Tracy decided to sell TBW, retire, and move to Colorado. The new owners let go all of the management team and most of the employees. They moved TBW to a warehouse in Statesville. The new owners relationship with the dealers and customers just didn't work out so the number of dealers and orders withered on the vine. TBW was sold again!
The next new owners changed the name to Firefly Balloons and moved again. The company continues to operate today but on a much smaller scale. The company is held together by a few dedicated people whose love for Tracy's balloon is the glue that binds. FireFly Balloons is located at 850 Meacham Road in Statesville and visitors are welcome anytime. Their web site is www.fireflyballoons.net.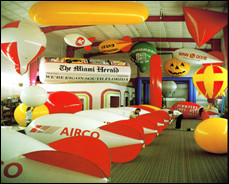 In 1984 Tracy decided to move back to Statesville and he founded The Blimp Works, located three miles south of Rhyne Aerodrome off Damascus Church Road. In operation for 35 years, The Blimp Works produced a complete line of helium-filled products very popular among their customers and dealers.
It was here that Tracy designed and flew the Whispership, one man, single engine, 68' long helium airship. This was Tracy's pet project he loved experimenting with it, but it never advanced into production.
Tracy received awards for his achievements and design innovations from the BFA, CBA, FAA, FAI, WLAS, CBA, National Design Academy and The Smithsonian.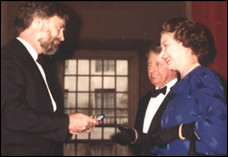 In 1985, the Queen of England awarded Tracy the Wirth Medal for his ballooning achievements and invention of the Parachute Valve. Tracy said he would like to be remembered, "that he made ballooning a safer sport".
Tracy passed away on January 20, 2019. He was truly one of the world's pioneers in hot-air-balloons and lighter-than-air aircraft.
In May 2019, the Blimp Works closed and the Whispership project came to a halt. Firefly Balloons is still in operation and worth a visit to see the beautiful FireFly balloons Tracy created.
Thanks Tracy!