Bill Meadows was trained by Tracy Barnes in 1969 and under the new FAA license requirements he was the first licensed balloonist in the Southeastern United States. Bill founded Balloon Ascensions, Ltd. (BAL) in December 1969. BAL became the second FAA approved balloon school in the nation.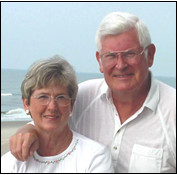 Nancy Meadows played a major role in supporting Bill in his new ballooning adventure and for 10 years was Bill's crew chief and host to students training at BAL.
For over 50 years, Bill's involvement in ballooning contributed greatly to the growth of the sport locally and nationwide.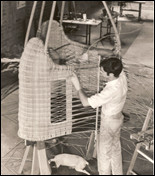 In 1967, Tracy moved from Chester, SC to a warehouse at 726 Foster Avenue in Charlotte, NC, where he lived and worked on his balloon equipment from past balloon adventures. Here Bill Meadows met Tracy in 1969. Tracy was the only balloonist in Southeast at the time. Tracy decided to start manufacturing a balloon of his own design which he named the FireFly balloon.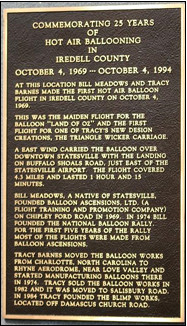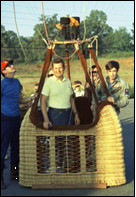 In 1969, Bill asked Tracy if he would train him to fly balloons and sell him one. Tracy agreed, and the first training flight took place in Statesville on October 4, 1969. This flight was the first to use a triangle wicker carriage that Tracy had just designed and built months before. This was the first flight in Statesville and Iredell County, and set the stage of a 50-year personal and business relationship between Bill and Tracy.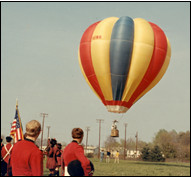 In October 1969 Bill decided to order a balloon and told Tracy he wanted a certified balloon since he planned to do commercial promotions. Tracy was building only experimental balloons but knew a fellow balloonist Don Piccard in Newport, CA who manufactured certified balloons. So, Bill designed the balloon he wanted and made out a check for $3,900 for a new Piccard AX-6 balloon.
The new balloon, N11WM, arrived in January 1970. Bill named it Kitty Hawk. At the end of January Bill drove, along with his brother Jim, to St. Paul, MN and competed in the 1970 St. Paul Winter Carnival Balloon Race. Flying from frozen White Bear Lake Bill took 1st place. Off to a good start!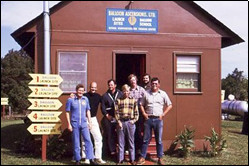 In December 1969 Bill founded Balloon Ascensions, Ltd. as a training and promotional company. The next year, a balloon school was built on 40 acres Bill owned five miles north of Statesville. The school had bunk beds, kitchen, restroom, student lounge, library and office. Students came from across the USA, Central and South America. Later, the school became the second FAA approved hot air balloon pilot training school in the nation.
BAL had five instructors each with their own Winnebago motor home so students could have the option to be trained at the balloon school or in their hometown. In operation from 1970 to 1982. BAL trained over 100 students and sold 50 new balloons. BAL had contracts with over 300 companies to create balloon promotions, grand openings, shopping center promotions and special events.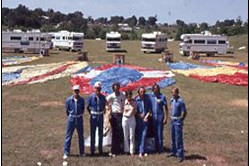 Balloon Ascensions Pilots: Dan O'Brien, Dave Little, Jim Knight, Bill Meadows, Jim Thompson, Paul Layman, Portia Wooley, Reber Chambers, Terry Wright, Walt Thompson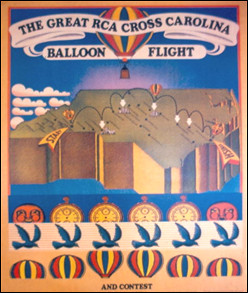 Bill wanted to be the first balloonist to fly across North Carolina from the mountains to the coast. With RCA as his main sponsor, on Oct 1, 1971, Lt. Governor Pat Taylor flew on the first flight. There were 31 true point to point flights that took 69 days and covered 377 miles.
On Oct 20th, Governor Bob Scott was Bill's passenger, and they flew from the NC State campus in Raleigh, NC. The last flight ended on the beach sand at Surf City on Dec 9, 1971. Jim Knight was the crew chief, coordinating the two Winnebago chase vehicles and chase crews.
Bill served on the BFA Events Committee, 1972-1978, and wrote along with Don Cline and others, the original BFA Race Rules. Between 1976 and 1978 Bill served on the BFA board of directors, along with Malcolm Forbes. Several board meetings were held at Malcolm's home in Far Hills, NJ and Bill's home in Statesville, NC.
In October 1974, Bill founded the National Balloon Rally. The first year, 35 balloons attended the 10-day event. Renamed Carolina BalloonFest, the 47th year of the event will be held on October 15-17, 2021 at a new site in Troutman, NC. The event now attracts 30,000 people and 60 balloons. The non-profit event donates thousands of dollars to local charities each year. It is worth noting that Don Cline is the only pilot to have flown in the festival every year since 1974.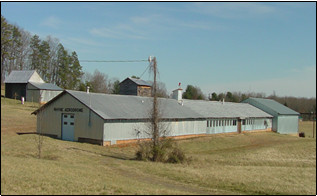 In 1973 Tracy asked Bill to look around for a new location where he would have more room to fly balloons. Bill introduced Tracy to Raeford Rhyne, who had a grass airstrip known as Rhyne Aerodrome. He also had a couple of chicken houses that he would rent for $50 a month. Tracy moved to Raeford's property, along with his design team Dobbs Meddock, Karl Stefan, and Terry Wright that year. In 1974, Tracy asked Bill to become his national sales director. Bill created a world-wide sales organization of 182 dealers who sold 1,048 balloons totaling over $10 million. The record month was February, 1979 with 50 balloon orders totaling $498,000. TBW became the world largest balloon manufacturer.
In 1982 Tracy sold TBW, now named FireFly Balloons and located at 850 Meacham Road in Statesville. FireFly Balloons is a much smaller company managed and operated held by a few dedicated employees whose love for the FireFly Balloon "is the glue that binds." More can be learned about them at www.fireflyballoons.net.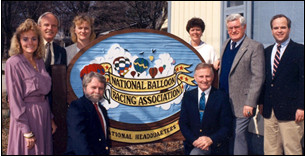 In 1982, Bill founded the NBRA with his brother, Jim Meadows. They created and managed 60 quality balloon races national balloon races for 10 years. The NBRA membership grew to 760 pilots with as many as 13 races per year. NBRA budget was over $100,000 per race with $50,000 awarded in prize money. All NBRA races were BFA sanctioned. NBRA had a staff of 13 with headquarters at 319 N. Center Street. Eight of the staff members are pictured. NBRA had it's own Cessna 182 tracking airplane, vehicles, communications and computer systems, tents, 13 cold air advertising balloons, and its own announcer Ron Griffin.
Along with Don Cline, Bill Meadows founded The Carolina Balloon Museum. Working on the project for more than five years, 2.27 acres were purchased in 2016 with an additional 1.35 acres in 2018.
The site is located in Statesville, NC, a city rich in ballooning history, near I-40 East at Exit 154. The design drawings are complete and approved.
Now in the fund raising phase the 20 million dollar museum is solidly in the process of becoming a home for ballooning history and source of inspiration for new adventurers to take to the skies.